Welcome to DIY for homeowners,
we're mother-daughter projects, I'm Steph I'm Vicki, and today we'd like to thank
the Home Depot for sponsoring this post and for providing these great new
Milwaukee outdoor tools. These new tools have one power head and all these tool
attachments work with that power head, which is a great system, but we wanted a way to get these nice and organized. Come along as we show you how we did it.
All we need for this project is a 2×4 a 2×6 and some 1 inch PVC pipe. We're
starting by measuring the space between our 2×4 wall, marking and cutting our
boards to length on the miter saw. Here you can see me using the PVC
ratchet and it worked really well for this project. We typically cut PVC on a
miter saw just because it's easy to do but when we get to smaller pieces of PVC
it feels too dangerous to use a miter saw so this tool will really came in
handy and you can see me using it a lot in this project.
Each tool attachment has a little bump that will hold it on top of the PVC. In
order to get the bump through the PVC we have to cut a notch out and we're using
the Dremel multi-max to do that. We cut it out on both sides and remove that
section. We smooth it out with a sanding disk on a rotary tool, then we cut the
pipe down to the thickness of the 2×4 you'll notice the pipe gets a little
squashed because of the notch we took out so for our next cut we fitted a smaller
piece of pipe inside the larger piece in order to hold it rigid while we cut the
pipe to length.
We use two different hole saws in this project, and if I was to
recommend anything to you, it's a good quality hole. We've used cheap ones
in the past and boy those were a nightmare to use. Sometimes the
hole saw will come off the drill. It's just it's no fun so get good quality
hole saws, and here you can see this Milwaukee one that we're using actually
locks in the drill bit locks in to the hole saw so it can't come undone it
really works well we also have a Diablo set that we really love. So good quality
hole saws will make nice clean cuts. Here you can see Steph is cutting a
notch and that's where the handle is gonna sit. She actually used a jigsaw to
cut out the little notch, but you can use a handsaw to do that.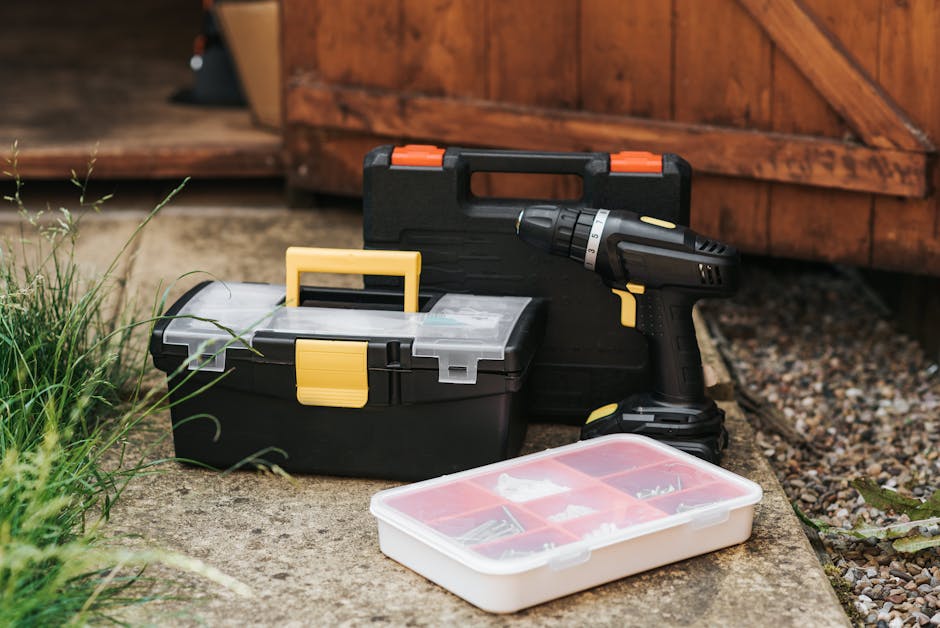 The 2×6 got
a full notch cut out and here you can see the power head fits perfect. Next we
tested the location of the 2x4s and added the PVC into the hole. What
we're determining here is where we need to glue the PVC pipe in place. We need
the tool to feed through the notch and to be able to be turned so it can sit on
top of the PVC and for the tool to lay flat on the wall. We're using
original Gorilla glue which expands three times in order to make a nice
secure hold. We also put the smaller piece of pipe inside so the PVC pipe
didn't move during the cure time. We measured and put the 2x4s into
place. We tested out the fit, and success! We continued the process with the rest of
the 2x4s. Here you can see we're using a framing
nailer to attach those boards to the studs, but you can also use screws or
hammer and nails.
You'll notice we also put one 2×4 as a shelf to hold supplies. What
we learned. We've found our wall back here is a perfect place for this storage
system, so if you have an unfinished garage or unfinished shed that has these
exposed 2x4s, it's a perfect place to put a system like this. If you
don't have an exposed wall like this that's not a problem, we actually made a
system similar to this for the Ryobi outdoor tools at my house, and we'll
put a link to that below so you can check that one out too. Now this is a
really inexpensive option for a storage system like this, all you need is 2×4 and
a couple pieces of PVC.
If you want to see all these tools in action you can
actually check that out on Workshop Wednesday, we'll put a link to that below
and if you like our projects and want to see more from us, be sure to visit us at
mother daughter projects .com and sign up for our newsletter. There'll be a link
below you'll get an email once a week with all our latest projects.